What's the best portable fire pit for RVs and camping?
Most campgrounds have built in fire pits or at least a designated area. But once you leave those sites in search of adventure, it is important to leave as small a footprint as possible. Things to consider when you are off the beaten path and especially when boondocking:
follow local fire and safety laws
minimize impact on the environment
avoid causing wildfires
respect the local wildlife
leave no trace
With that in mind we reviewed several portable fire pit options and here is the winner.
Fireside Outdoor
The Go Anywhere Pop-Up Portable Fire Pit
Pros
60 Second Assembly
Minimal Smoke
Light & Easy to Move/Store
90 Seconds to Cool
Leave No Trace
Safe on any surface
Super fast cool down
Cons
Grill Grate and Heat Shield (A Must) Not Included
Mesh Wears Out After 50-100 Fires (Cheap to Replace)
The Details
This pit is designed for RVers and campers.
It is easy to…
set up
tear down
carry
store
and transport
And when in use it throws off very little smoke! (So you won't smell like a roasted marshmallow.)
Portable and Easy to Carry
Picture one of those folding camp chairs. Then shrink it to weigh only 7.8 pounds. Easily fits into 5″ x 27″ carrying pouch.
Less Smoke
The elevated design has several benefits. It allows you to set up on more surfaces, leaving the ground undisturbed.
The elevation also increases airflow to the fire. More air means a hotter fire, which burns the wood more completely so small particles (smoke) aren't released into the air.
This fire pit has about 80% less smoke than a regular campfire. The smart circulation makes a difference once the fire gets going; give it may take a minute to heat up.
The Three Models Available From Fireside Outdoor
Easy Set Up
Go Anywhere Has a Heat Shield
We highly recommend the Go Anywhere model. It includes a heat shield to protect the ground beneath the fire.
For RVers and Campers, this is essential to protect your campground and meet local fire safety policies.
The pit meets all federal, state, and local fire regulations and is U.S. Forest Compliant, so it's good to go just about anywhere you feel up to taking it.

Fireside Outdoor
You can set up the Go Anywhere model anywhere…hence the name. The heat shield means you can set it up on the…
Beach
Rocks
Wooden Deck
Garden
Seriously! Try this campfire on a wooden deck. It'll work great!
Heat Shield Set Up
The Mesh
Beware: Over time the mesh will wear out.
The mesh holds the weight and bares the heat of the fire. (In the video below it is the last piece to go on.)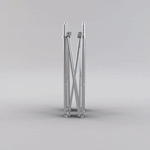 You can expect the mesh to last between 50-100 fires. All other components of the fire pit have a lifetime warranty.
When your mesh starts to stretch out, it's time for a replacement. Order the Go Anywhere replacement mesh.
Easy to Clean
Just use water. The aluminum and mesh is waterproof. (Challenge: fire pit through a storm!)
Upgrades and Accessories
If you want to make s'mores, no additions needed. The Pop Up Fire Pit works great for marshmallow roasting.
Grill Grates
If you're more into barbeque, all it takes is the grilling grate sold by Fireside Outdoor. Though not included, the grilling surface is compatible with the Go Anywhere model.
This is a perfect gift.
If you prefer keeping your fit pit and grill separate, visit our page on the best (portable) RV grills.
Watch this guide to see the grill in action!
If you prefer an old-fashioned campfire surrounded by rocks but still want to turn it into a grill, we've got you covered! Check out our post on the best campfire cooking grates.
Ember Mat
It works great for any campfire or grill, not just the Pop Up Fire Pit.
I know someone who bought two—one for the fire pit and one for the grill (of course, the best RVing grill out there).
Heat Protection Gloves
Another great gift for friends and family.
Tips on Lighting Your Portable Fire Pit
Caution: Liquid fire starter can be used but it is not recommended.
Liquid fire starter can slip through the mesh – putting you at risk. And never use flame color changers. These will cause damage to the mesh!
You can go old fashioned with a flint and steel, a match, or a fire starter. Just don't use gasoline or an ignitor that sits in the fire.
As some campers have experienced, solid fire starters get extremely hot and can wear through the mesh faster than normal.
Building The Fire
Read our section on replacing the mesh after it wears out naturally.
Fire Pit Assembly
If you want a detailed walkthrough of the 90 second construction…
FAQs
Can I use lighter fluid to light a fire pit?
Accelerants can be used but caution is advised. For Fireside Outdoor's pop-up pit, liquid starters can pass through the mesh creating a fire hazard.
How much weight can the Fireside Outdoor fire pit handle?
The Pop-up fire pit is stable up to 125 lbs
How long does the Fireside Outdoor mesh last?
The mesh will last 50-100 fires under normal use. After time, the weight of the wood and heat will break down the fibers of the mesh. When you see it starting to spread it is time to replace.
How fast does the fire pit cool down after a fire?
Because the Fireside Outdoor Pop-up Pit is aluminum, it will cool down in 90 seconds after being extinguished. Other fire pits and campfire grills often take much longer to cool down.
The End
Thanks for reading! We hope you find this helpful. If you have suggestions, content ideas, feedback or want to contribute send us a quick email at info@rvsupplyco.com.
Source credit to all Fireside Outdoor Pop Up Fire Pit images: Fireside Outdoor website.